WINNER: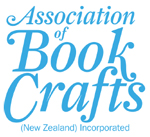 Open Section
Rebound-Repaired Book 2017
Situated in Bethlehem, Tauranga, the award winning Kaimai Bindery provides a professional book binding service to meet your needs.
With over 20 years of experience within the industry, our binder provides a quality service for all products – no job is too small.
We are able to offer a personalised book binding service, ideal for making unique, memorable and distinctive gifts for clients, family and friends. Proofreading service – spelling, punctuation and grammar – also available.
We pride ourselves on the expert care we take of your work and treasured possessions.
To protect our staff:
If you are fully vaccinated you are welcome to come to our bindery in person to drop off work or to discuss your requirements with us, or we can discuss these via phone or email. You may be asked for proof of your vaccination status.
If you are unable to meet these requirements, we are still happy to discuss your requirements via phone or email. However, we can only receive your work via courier or post, and we will get your completed job back to you the same manner.
As we work from home, we hope you will understand our decision.