WINNER: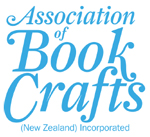 Open Section
Rebound-Repaired Book 2017
Situated in Bethlehem, Tauranga, the award winning Kaimai Bindery provides a professional book binding service to meet your needs.
With over 20 years of experience within the industry, our binder provides a quality service for all products – no job is too small.
We are able to offer a personalised book binding service, ideal for making unique, memorable and distinctive gifts for clients, family and friends. Proofreading service – spelling, punctuation and grammar – also available.
We pride ourselves on the expert care we take of your work and treasured possessions.